Flared End Sections (FES)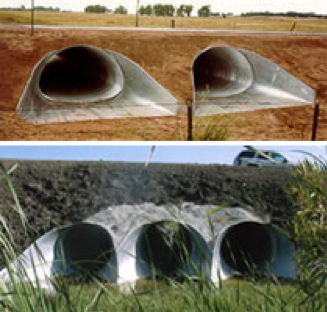 Our standard flared end sections are not only long-lasting and easy to maintain, they are up to standards – made from certified materials meeting AASHTO and ASTM standards … meeting the "Buy American Act" criteria … and federal and state highway agency requirements for safety and hydraulic efficiency.
Multiple end sections are a perfect choice when the culverts runs are too close together or there is limited space in the project. The end sections can be made to fit both round and arched pipe and are available in galvanized, aluminumized type 2 or aluminum material.
Multiple end sections are custom built. Typically, spacing between the end sections is half the diameter of round pipe or half the span of the arched pipe.
However, the spacing can be more or less depending on your specific project.
Multiple end sections for CSP:
12" long corrugated stubs will be attached to the multiple end sections
Connect the stubs to the CSP with standard connecting bands
Or discard the stubs and attach the multiple end sections to the pipe with end section connecting hardware that will be supplied
Bracing on the backside of the multiple end sections adds strength. Large multiple end sections will have additional bracing on the underside for extra support during manufacturing and shipping.