Installation Design Guides
Proper installation is vital to the long-term effectiveness and life of your project. We have included all the proper installation procedures for our products below. If you can't find what you are looking for please contact your local representative and they will send the document you need.
BEDDING & BACKFILLING
Use well-graded compacted granular bedding or flowable fill material to one foot above the pipe. Trench backfill should be free of rocks, frozen lumps, and foreign material that could cause hard spots or decompose to create voids, com-pacted to 90% standard density per ASTM D696 (AASHTO T99).

Flumes Assembly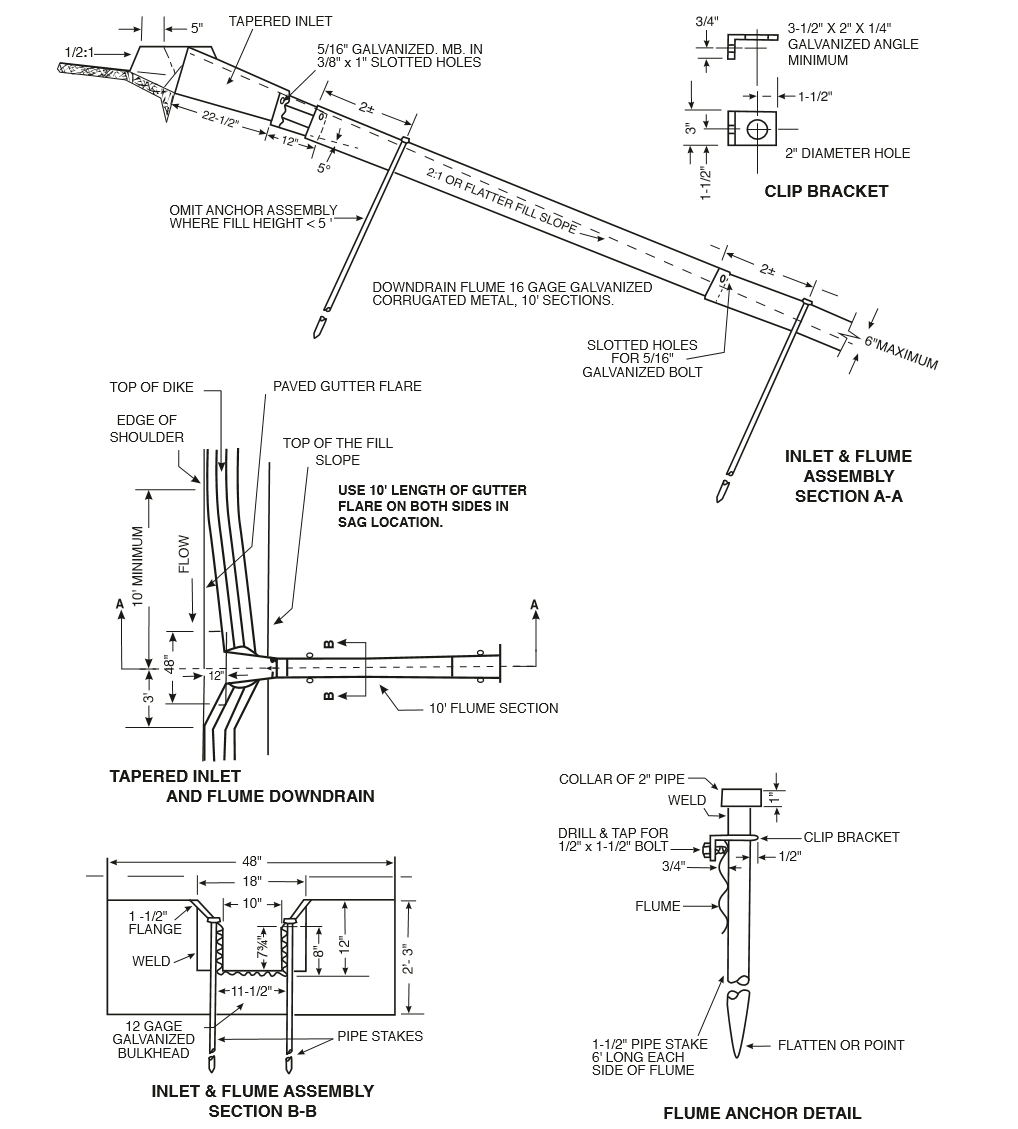 Handling
All pipe should be lifted off the trailer to avoid any damage while unloading. Never allow pipe to be dragged off or dropped from trailer height.
Slings should be used for lifting the pipe off the trailer and for positioning pipes in the trench.
When unloading a nested pipe shipment, make sure that the delivery site has ample room for unnesting the various pipe sizes. Special care should be taken to avoid damaging pipe while unnesting pipe.
Pipe ends may be sharp. Handle with care. Use gloves and other proper protective clothing and equipment.
Safety Warning: Stack the pipe on the trailer or ground with proper blocking or strapping.
Unnest a pipe by using a two-by-four that is one to two inches larger than the pipe's inside diameter. Wedge it into corrugation valleys and then pull on two-by-four with a chain or wire rope.
Be careful when removing binders or strapping on pipe bundles, either on the trailer or ground. Never stand on pipe bundles.
Heavy Construction
For temporary construction vehicle loads (100kips/axle load), put at least four feet of compacted cover on top of the pipe (but not exceeding the maximum allowable cover over the pipe).

---
Contact Pacific Corrugated Pipe Co. for detailed specifications regarding backfill methods and materials. ASTM Specification A798 – "Standard practice for installing factory made corrugated steel pipe for sewers and other applications" is a recommended reference.